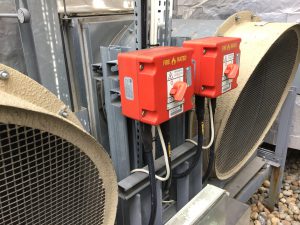 Fire Engineering design for Building Regulations compliance
Fire engineering design uses engineering principles to plan and design the best use of space and resources to be fully compliant for building regulations, ensuring maximum fire safety within the building, this usually takes place before work commences on the building however, where necessary it can be retrospective.
Work with FSEC to ensure your property is compliant and you'll receive:
Expert advice and consultancy from specialists in fire engineering design, covering the construction of a robust building that prevents the spread of fire and complies with fire safety law.

Assessments of commercial buildings by expert fire engineers to ensure the building is compliant, Fire stopping checks and installation of the correct measures to prevent the spread of fire between rooms and levels of the property where floors and walls are penetrated by pipes,
ventilation and cables.

FSEC provides a wide variety of Fire Engineering consultancy services. The team consists of Fire Engineers, Building Regulation Consultants, high level Fire Risk Assessors and Trainers. They all have qualifications, experience and training in their respective areas of competence.
A number are Ex Fire Service with experience of 1000's of real fires and others have worked for many years in Fire and Building control enforcement. We specialise in both Code compliant and NON code compliant design using all the best practices within BS9999 and other Fire Engineering design codes and some that are not.
Our USP is real fire experience rather than just desktop design and reviews, but we include CFD modelling and technical Fire Engineering in our standard work regime. We have experience in Fire Engineering design for buildings, Building Regulations, Fire Safety Enforcement and prosecution, Fire Alarm Design, Sprinkler design, Emergency Lighting, Fire Suppression systems, Smoke Control and Ventilation Design, Pressurisation systems for Life Safety and building protection. FSEC has detailed experience in Fire compartmentation analysis, fire door checks and offer a bespoke advisory service for the remedial works following our intrusive or destructive analysis of any building.