Fire compartmentation investigations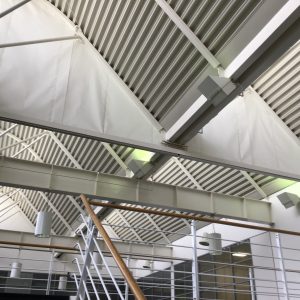 Building owners, landlords and occupiers must ensure that the fire compartmentation in their buildings is adequate for the space involved.
Fire compartmentation is how a building is divided into manageable areas of risk. The walls, floors and roof that compartmentalise each section of the building. All buildings, regardless of age change their status of compartmentation every time any structural changes are made such as drilling through walls, new doors amongst many other amendments, each amendment can affect the risk factor, therefore a detailed compartmentation survey should be completed for any commercial building.
Fire compartmentation is an integral part of the safety features of any building and The Fire strategy should dictate what standard of fire resistance the walls and floors of a building should have in accordance with Building Regulations and fire safety principles, dependent upon the height size and use of the building.

Failures in fire compartmentation like the Grenfell incident, can lead to smoke and flames spreading rapidly and prevent escape routes being available to the occupants with the resulting consequences. Failures in Fire compartmentation are punishable under the articles of the Fire Safety Order 2005 and ignorance of the problem is not a defence in law for the "Responsible Person".
After Grenfell, it was identified that the fire doors installed did not hold back fire for
anywhere near the legal minimum standard of 30 minutes.

Often horizontal fire compartmentation between floors (usually 60 minutes FR) on buildings up to 6 floors, will be breached by service risers and pipes and cables passing through the premises. Each breach must be sealed correctly without using expanding fire foam.

Instead, best practice requires the installation of fire collars, fire wraps, and socks plus intumescent Fire batts and bricks as part of a number of measures used to seal such breaches in a very specific manner.
We undertake both INTRUSIVE AND DESTRUCTIVE Fire compartmentation investigations in any type of premises including blocks of flats.
FSEC will visit your premises and report on any actions required, ensuring safety, protection and that your business is fully compliant.